| | |
| --- | --- |
| | |
The Jeep Crew Chief 715 concept vehicle was built as a salute to legendary Jeep military service vehicles, in particular the Kaiser M715. This open-air Wrangler Unlimited-based concept vehicle showcases a burly design with heritage styling cues. The Crew Chief 715 utilizes modern-day construction with a rear seat and extra doors for additional passenger capacity while staying close to its classic military roots.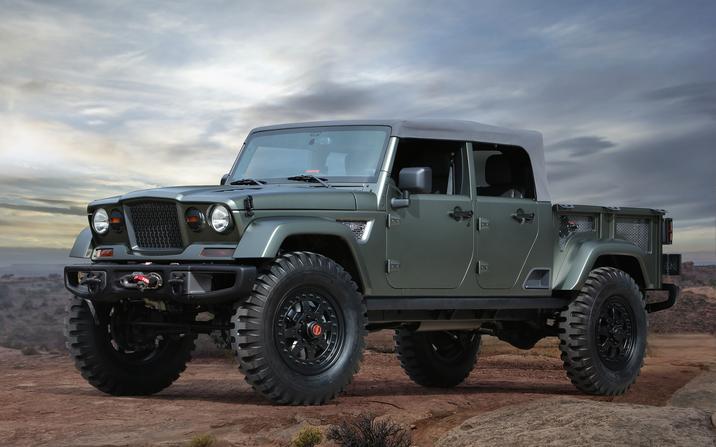 Original Jeep military service vehicles were legendary for getting troops through rugged terrain, and the Jeep Crew Chief 715 illustrates this legacy. Steel front and rear bumpers, 20-inch beadlock wheels and 40-inch NDT military tires pay homage to the original Jeep military vehicles. The Crew Chief 715 utilizes an on-board air system with a hard-mounted quick-disconnect fitting for airing up or lending assistance to other vehicles on the trail. Other features include a master cylinder brake upgrade, cold air intake and a modified exhaust.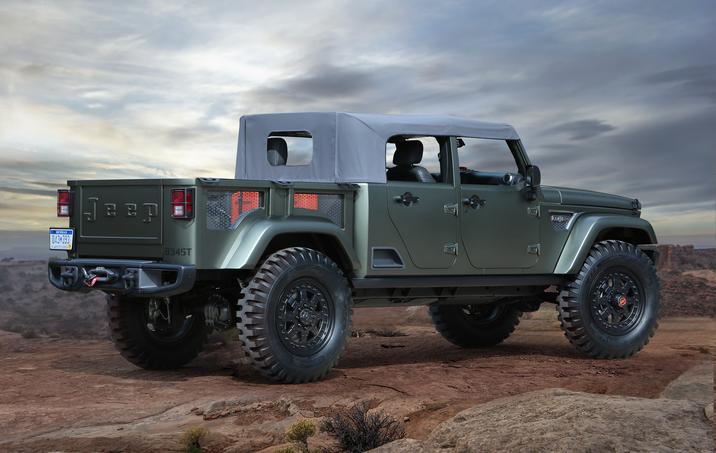 Exterior features, such as Jeep Performance Parts off-road rock rails, a winch mounted into the front and rear bumpers, Dana 60 front and rear axles and a 4-inch lift kit with Jeep Performance Parts/Fox 2.0 Remote Reservoir shocks, give the Crew Chief 715 increased capability. The "Tactical Green" color scheme runs from the custom modified M715-inspired front-end to the tailgate. The Crew Chief 715 features a military themed 5-foot cargo bed.
Inside, the no-nonsense interior features leather bucket seats with canvas inserts, aircraft-inspired control switches and Mopar all-weather mats. The media center features a centrally located navigational compass.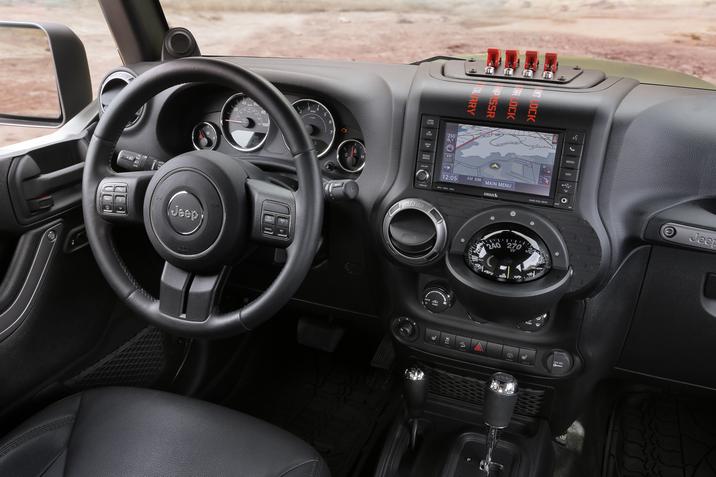 The Jeep Crew Chief 715 is powered by the 3.6-liter Pentastar V-6 engine and is mated to a five-speed automatic transmission.
Jeep Brand
Built on 75 years of legendary heritage, Jeep is the authentic SUV with class-leading capability, craftsmanship and versatility for people who seek extraordinary journeys. The Jeep brand delivers an open invitation to live life to the fullest by offering a full line of vehicles that continue to provide owners with a sense of security to handle any journey with confidence.
The Jeep vehicle lineup consists of the Cherokee, Compass, Grand Cherokee, Patriot, Renegade, Wrangler and Wrangler Unlimited. To meet consumer demand around the world, all Jeep models sold outside North America are available in both left- and right-hand-drive configurations and with gasoline and diesel powertrain options.
Mopar Brand
Mopar (a simple contraction of the words MOtor and PARts) was trademarked in 1937 with the launch of an antifreeze product, but it truly made its mark in the 1960s during the muscle-car era. From Mopar Performance Parts to enhance speed and handling for both road and racing use, the brand soon expanded to include technical service and customer support.
Today, Mopar is FCA's service, parts and customer-care brand and distributes more than 500,000 parts and accessories in over 150 markets around the world. With more than 50 parts distribution centers and 27 customer-contact hubs globally, Mopar integrates service, parts and customer-care operations in order to enhance dealer and customer support worldwide. Mopar is the source for genuine parts and accessories for FCA brands.
Mopar parts are engineered together with the same teams that create factory-authorized specifications for FCA vehicles. This offers a direct connection that no other aftermarket parts company can provide. A complete list of Mopar accessories and performance parts is available at www.mopar.com.
Jeep Performance Parts
The Jeep Performance Parts portfolio, created in 2012 and offered by Mopar for the Jeep brand, provides enthusiasts with high-end, hard-core, quality aftermarket accessories and performance parts, including axles, lift kits, bumpers, winches, skid plates, suspension components and more. These aftermarket offerings are engineered together with the same teams that create factory-authorized specifications for FCA vehicles and help elevate the Jeep vehicles' already best-in-class off-road performance to the next level. Each part and accessory is specifically designed, built and quality tested to help transform stock rides into even more capable trail performers.
Easter Jeep Safari
Easter Jeep Safari consists of trail rides, mostly day long trips, departing from Moab, Utah, throughout the nine-day-long event. The Jeep Safari was started in 1967 by the Moab Chamber of Commerce as a one-day trail ride. Over the years, as participation grew, the Safari expanded until it finally reached the current nine-day event. "Big Saturday" still remains the culmination of the event on the Saturday of Easter weekend.
1 comment