| | |
| --- | --- |
| | |
We'd gotten away with not having to do an SYE kit with our 3.5″ suspension, but once we upgraded to the 4.5″ Extreme Duty kit from Rubicon Express, an SYE kit was going to be a necessity. We've had a JB Conversions heavy-duty SYE kit on our XJ for years now, so we were already very familiar with the install process and the quality and beefiness of JB's kits, and having broken the factory output shaft in our TJ's t'case once already, going with a heavy duty SYE kit from JB Conversions was a no-brainer.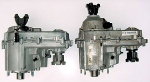 A few weeks before we were going to start gathering parts for the new lift I read something on a Jeep forum about a new super short SYE kit from JB Conversions, so I immediately went to their website to check it out. This new Super Shorty kit uses the same 32-spline heavy-duty shaft as their regular kits, but features a new electronic speedometer sensor fully compatible with the original Jeep computer. This shortens the overall length of the kit by almost 2.5″, making the NP231 as long (or short depending on how you look at it) as an Atlas II. For a long-wheelbase vehicle like an XJ this may not be a big deal, but for a short-wheelbase rig like a YJ or TJ, we're talking nearly a 15% increase in driveshaft length over a standard HD Sye kit, and a reduction in u-joint operating angles and the pinion angle (which cuts down on the bowing of the rear springs on a TJ).
The key to this kit is the new electronic speedometer sensor. Instead of using a wide helical gear collar and pick-up gear like the regular kits do, the new design uses a thin tone ring and electronic pulse sensor. The down-side to this design is that just like the 2003+ Jeeps, you can't recalibrate your speedometer by simply swapping speedometer gears in the tail housing. The up-side is that there are signal converters available from SuperLift and Dakota Digital that allow you easily and possibly more accurately recalibrate your speedometer for bigger tires and different gearing. The Dakota Digital unit is available through JB Conversions themselves for about $60 or less. We will be reviewing one of these kits in the future. Your speedometer will still work normally without one of the signal converters, it's just going to be calibrated for the stock tires and gears by default.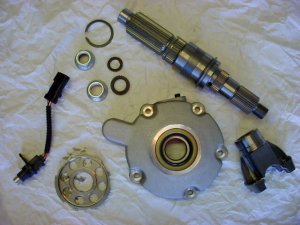 No comments