| | |
| --- | --- |
| | |
By now I think everyone would agree that the TJ is the most capable stock Jeep ever built, but that wasn't good enough for Tim Kyle, he wanted a rig that could tackle some of the hardest trails in the country, and turn some heads doing it. So, Tim got a stock '97 TJ and started having some fun…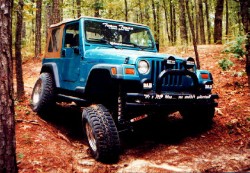 Tim started out by taking his TJ down to Texas Off-Road Performance (1-218-367-2351), for a lift, new tires, and new wheels. The guys at Texas Off-Road Performance installed a 3″ Teraflex lift, complete with a new set of Rancho RS5000 shocks, a Rancho steering stabilizer, 1″ longer ProComp control arms, and a 3″ body lift. Then they installed a fresh set of 35 x 12.5″ Mud Kings mounted on 15 x 10″ American Racing Steel rims. To help protect his new TJ on the trails, Tim also had Texas Off-Road Performance install SmittyBilt bumpers all the way around. Tim rounded out the lift by adding a set of Rubicon Express Quick Disconnects.
Mr. JR McCabe of J&M Outfitters (1-281-441-9646) in Humble, Texas, has developed a shop that caters to "Offroading Mild to Wild" and he has taken the TJ and gone crazy with it. Courtesy of J&M Outfitters, the TJ now has a new Dana 44 rear, 3.73 gears up front and in the rear, a JB Conversions Transfer case kit, and Six States driveshafts. J&M also designed a trick dual steering stabilizer set up (since they are not on the market yet), and swapped the RS5000's for a set of RS9000's with an in-cab controller. A wider set of fender flares is being added as well. And, J&M is also installing the complete ARB set up that was purchased by Tim's next sponsor, the Pyle Brothers Racing Team out of Houston, Texas. These guys are 1/4 mile mad men and thought they would lend some assistance to the rock crawling side of the sport with the purchase of the complete ARB set up for the front and rear of the Voodoo Chile'.
Now that "Voodoo Chile`" could tackle the tough trails, it was time to turn some heads. Tim enlisting the talents of Flash Gordon's Air Graphics of Conroe, Texas (1-409-588-4147) to do an incredible flame paint job on his TJ. Flash is an artist that splashes his work on everything from A.P.P.A. Racing boats, Monster Trucks, and even country music tour buses. The flame job was started with a light blue, almost the factorytTeal color but lighter, it was faded on from the nose to about the mid-door area, fading into the teal color. Then, the flames were fogged on starting with white at the nose and fading through the oranges, reds, and yellows to the gold tips, all of this was then outlined and shaded for a floating effect. It was then covered with 3 layers of purple pearl coat, also fading to the rear, and then covered with 5 coats of clear paint to keep the flames looking hot.
The TJ's 4.0L, I-6 engine is still pretty much stock, except for the additions of a K&N airfilter and a FlowMaster dual exhaust system, both of which Tim installed himself, along with the 4 Mopar/KC lights. In the future he'd like to either add a Rimmer Supercharger, or swap to a bigger engine to get a little more horsepower and low-end torque.
If you're ever in Texas, look for Tim's Jeep, he's bound to be around somewhere, as a member of the Team Texas 4WD Club, Tim spends a lot of time wheelin' in Fort Hood. Moab and the Rubicon are among some of the big trails Tim is planning to run, along with as many other big events as he can make. Tim is also looking for more sponsors, so if anyone would like to sponsor him, or just say "hey", drop him an email at muddyjeep@worldnet.att.net.For more on Tim's TJ, check out his feature on Jeepthing.Com or his Reader's Rigs entry in ROCKCRAWLER.COM. Voodoo Chile` can also be seen in the Fort Hood Diaries on ROCKCRAWLER.COM.
No comments