| | |
| --- | --- |
| | |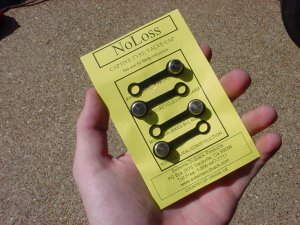 Update: the No Loss Caps are now available in a 5-pack, as well as a plastic version for use with aluminum valve stems.
These have got to be some of the neatest offroad gadgets I've come across in a while. I saw them in a magazine a while back, and having lost more than a few valve caps myself while airing down or airing up offroad, I thought they were a great idea! Plus, at about $11 a set, they're cheap too!
The caps are made in Great Britain for use on NATO military vehicles, so you know they're high quality and heavy duty.
They come four to a set (five would be nice, that way you could put one on your spare tire), taped to a yellow instruction card. The design is pretty simple: knurled metal valve cap on a heavy-duty tether. The makers claim that the tethers will withstand up to 80mph driving with the caps dangling free without coming off. The cap also has a rubber o-ring inside so it can seal the valve stem itself, in the event you have a leaking valve core.
Installation is a no-brainer, just spin the open end of the tether down onto the valve stem and you're done! No more digging in your pockets, fumbling in the cold, or searching for dropped caps!
For more information, contact:
Extreme Outback Products
P.O. Box 3075
Vacaville,CA. 95696
1-866-447-7711
E-mail: info@extremeoutback.com
http://www.extremeoutback.com/
No comments