| | |
| --- | --- |
| | |
Article by Jeff Ayers.
I had wanted to explore a couple different regions in the Upper Peninsula for quite sometime, so I sent out the word to all my fourwheeling buddies and came up with one taker! Chuck Schnell and his family agreed to join me, so I set things up. We agreed to explore a region referred to as the Huron Mountains located east of L'Anse and west of Marquette. Our base camp was Big Erik's Bridge campground on State Forest land east of Skanee, MI. I left work Thursday evening of the 19th, after getting a call from Deb saying that they would be late due to a last minute sump pump failure, and headed northeast for L'Anse following a computer generated map. This route took me on a course of back roads that narrowed to a two-track road at one point! Don't necessarily believe everything the computer tells you. I did happen to pass by a spot in the Ottawa NF called Kakabika Falls on this road though, so my curiosity got the better of me and I stopped for a short hike to a small scenic falls on the Cisco Branch of the Ontonagon river. Once back on the road, I passed Bond Falls and Bond Falls Flowage before turning east on M28. Just after the turn North on US41, I came to another irresistible Roadside Park called Canyon Falls. I hiked the length of the canyon and shot a few pictures of the gorgeous falls and rapids along the Sturgeon River.

This is a very neat park and I suggest you stop to check it out if you are ever in the area. It turned dark as I left the park heading north towards L'Anse. I fueled in L'Anse before hitting the broken asphalt towards Erik's Bridge CG passing along the shore of Keweenaw and Huron bays of Lake Superior. The campground turned out to be about two miles past the end of pavement along the Huron River. Chuck and Deb were no where to be found, so I set up camp and made some dinner before they rolled in. They arrived about 11pm and we hit the sack shortly thereafter.
Friday dawned bright and sunny with birds singing in the trees overhead.

I was also aroused by the sound of logging trucks passing on the road as well as snaking into the woods just beyond our campsite. A large portion of the surrounding land is owned by lumber or paper companies although it is open to the public. I had breakfast and explored the river and falls just over the cliff from our campsite while waiting for Chuck and family to arise. I finally knocked on the camper door to rouse them! Eventually, we loaded up their CJ-5 and my XJ and headed east on the logging roads looking to find a route or two to the shore of lake superior and perhaps make it through to Big Bay along the lake on trails shown in the Michigan Gazetteer. We turned north on a promising road just before the Little Huron River and explored a few side trails while working our way north towards the lake. We eventually found a path that seemed well used and popped out on the beautiful sandy shore of Lake Superior at the mouth of the Huron River with the Huron islands in front of us.
It was a beautiful sight! We, meaning Brianna (7years old) and I, slipped into our swimsuits to tempt the usually icy waters. The lake wasn't too bad after you got used to it! We had lunch just beyond the sand dunes in the shade of some trees. After back tracking a short distance, we headed east again. We eventually ended up on some dead end logging roads in the vicinity of some rocky knobs. One skidder path looked interesting, so I pointed the XJ up the trail and began to snake up a ridge between trees, stumps, and brush to a point where I had to turn left and drop off the ridge into the gully. This turned into quite a pucker spot as the turn tilted the jeep far to the drivers' side before finally leveling out and dropping into the ravine. Once down the ravine a short distance, I scrambled back up to spot Chuck around the turn and drop off. It was great fun and I joked about trying to run it backwards from the ravine up to the ridge, but instead we backtracked to the main road again. We thought we would try a more southerly route east towards Big Bay, as our original route seemed to dead end or branch into numerous logging roads. After a short distance on this other road, we came upon a forester who we spoke with about directions and suggestions. It turned out that there is a large block of private land, owned by the Huron Mountain Club, right in the middle of the area we were trying to explore! The land that they have locked away is filled with rock ridges, a number of lakes, and miles of Lake Superior shoreline! Apparently, Henry Ford once owned huge tracts of land in this region where he had saw mills produce wooden parts for his automobiles. This chunk of land eventually became owned by a consortium of wealthy companies, such as Ford, Chrysler, and Firestone, and has been operated as a private estate for years. After talking with the forester, we continued on a road skirting the southern boundary of the Huron Mountain Club land, as well as explored a number of side trails before returning to camp for the evening. After dinner and some campfire time, we noticed a vehicle enter the campground and pull up to our camp. It turned out to be my dad! He originally wasn't going to come, but decided last minute to take off.
Saturday morning was another bright sunny one. I made sweet rolls in my Dutch oven for breakfast and placed two precooked bratwurst on my intake manifold for lunch. We decided to head over to Big Bay via a route farther south than the one we were on Friday and return to camp on Fridays road. During this jaunt we explored a couple side roads and I managed to really slam into one rut while not paying attention, practically hitting my dads and my head on the roof! Nothing was damaged, so we drove on. On another dead end jaunt, I was making a turn onto a trail when I heard a loud PSHHT sound come from my right front tire! Sure enough, I slit the inside sidewall of a new 33×10.5×15 BFG AT KO on a sharp branch sticking out of a log lying on the ground.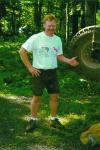 Thank goodness for the road hazard warranty I had purchased! After installing the 31″ spare, we continued to Big Bay for lunch. We didn't find any Lake Superior access points near Big Bay and ended up having lunch in the parking lot for a lighthouse that had been turned into a private bed and breakfast. I popped my hood to get the brats…and they were gone!! Apparently the big bump earlier that morning must have dislodged them from the manifold. I have done the manifold thing many times before, but never lost my lunch! We bummed some peanut butter from Chuck and Deb. While returning towards camp, we ran into some ATV'ers who directed us back towards Big Bay to find some tall overlooks that we had missed. Sure enough, we found three overlooks that required four wheel drive.
We had a great view of Lake Independence and Lake Superior from two of the knobs and a view of the Yellow Dog Plains from the other rocky knob. We made our way back towards camp, but decided to retrace Friday's route to show my dad the lake access. We first drove to the clear-cut area where I piloted my XJ onto the skidder trail, up the ravine and up to the top of the ridge before snaking down the ridge to the road. I was real surprised we made the climb from the ravine to the ridge! We then ran up to the Lake Superior access spot. On the way, we met a couple other Jeepers who were looking for another spot to camp as the beach location was already taken. We had planned to make a loop around to our camp as the map showed the road crossing the Huron River, but we found the trail blocked apparently at private property, so we turned around and headed to camp. As we pulled into the campground, we passed the Jeepers we had met earlier in a site by ours. The evening was occupied with dinner and campfire time.
Sunday morning, we met with the other jeepers and discussed trails. They had been coming to the area for many years and showed us some interesting trails in the Yellow Dog plains area on our map. They also shared some club inf. and web page addresses as well as invited us to camp with them later in the fall. Our little group then split up with dad and Chuck heading home while I did a little more exploring. Before I left though, I rigged a seat belt for that day's lunch with a piece of wire! I first went east again to try to find another knob my map showed, but no luck. I then looped around to the West Side of the mouth of the Huron River and found an easily accessed beach. Beware that I was told the DNR might close this beach to camping in the future. I then traveled to the end of Huron bay and headed toward Point Abaye between Huron and Keweenaw bays. I managed to find some backroad travel on this jaunt, but I also hit many Posted No Trespassing signs. I eventually reached the point and was able to nose the Cherokee onto the rock with Lake Superiors' spray wetting the sheet metal.
I also took another dip in the lake from the point as it is State land and available for the public to enjoy. From here I pointed the XJ south and headed for home. Along the way, I swung to the West to check out the Mulligan Plains OHV trail system. This system looked to be set up for ATV's and Dirt Bikes, as the trails are quite narrow. They are composed of sand and loop around a large fairly flat region SW of L'Anse.
I hit rain and fog as I neared home which made the excellent weekend weather all the more memorable. I will be back to the UP!!
No comments