| | |
| --- | --- |
| | |
Article by Patrick Brown
Rocker guards are one of the "necessary" upgrades for an XJ that plans to spend any time offroad, particulary around rocks. Living in Colorado, I spend my share of time on rocky trails and get nervous at the site of large rocks in my path that are hoping to eat my rocker panels as a snack! Considering that a friend driving my Jeep had already put a large dent in the passenger side rocker panel, my fears were well justified, so I finally decided to purchase and install a nice set of rocker guards.
The rocker guard market for XJs seems to be divided into 3 categories:
1: Light-duty side steps that will dent or bend when hit by a rock. These also reduce ground clearance significantly beneath the rocker panels. They usually mount to the frame rails only.
2: Medium-duty guards that are designed to absorb significant impacts without causing damage to the vehicle. They may or may not function as side steps and will usually include mounting points along the pinch seam. They mount close to the rocker panel to maximize ground clearance.
3: Heavy-duty guards that function as "rock-sliders". These have all the properties of medium-duty guards, but are specifically designed to hold the weight of the Jeep as it slides over rocks on purpose. They could also be used as a pivot point about which the Jeep rotates during extremely tight turns. These are for serious rock crawling!
I'm sure that some people will disagree with how I've divided the categories, and I realize there is overlap in practice; this is just a tool that helped me decide which product would work for me.
I narrowed my search down to 3 products: Custom 4×4's Double-Tube rocker guards, XJ Armor guards, and Rocky Road Outfitters Rockrails. They are all very tough designs that mount to the pinch seam and would be classified at least as medium-duty according to my rating system, although the XJ Armor guards appear to have the strongest mounting design. The problem with the XJ Armor for me was the cost- close to $400, so I decided against them. Despite a nice design, Rocky Road fell short due to the worst customer service I have ever experienced following my Old Man Emu suspension purchase from them. So, Custom 4×4 it was. I had previously dealt with them for XJ front tow hooks and was pleased, so I hoped that would continue. They have since come out with a 2×4″ design that is also very nice, which I also would have considered if it had been available.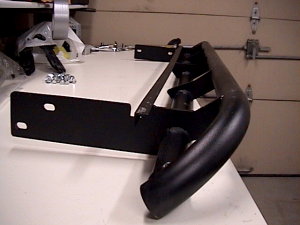 The Custom 4×4 Double-Tube rocker guards are built from 1.5″ OD .140″ wall steel tubing and bolt to the rear spring hanger, pinch seam, and frame rail for solid mounting. All pieces are black powder coated.
After seeing that Jeepin.com carried Custom 4×4 merchandise, I decided to order through them. Heck, if I can put a few bucks in a guy's pocket who has really helped the XJ on the internet and the trail, I've got no problem with it! Shortly after I ordered them, I received them on my doorstep in good condition.
The complete installation took about 2 hours, although I did encounter a few snags that I will explain below. The steps are written exactly as provided with guards, and I have written any notes of mine below each step.
Step 1: Lay appropriate bar on each side of vehicle (the arm with offset holes mounts to the rear of the vehicle).
Step 2: Position jack stands about 12 inches from wheelwell opening. Set nerf bar on jack stands. Move jack stands and nerf bars inward and rearward until the angle is in line with the pinch lip and the rear mounting arm is in line with the spring hanger.
Step 3: Lift nerf bar and clamp to the pinch lip making sure angle is in contact with the bottom of the rocker panel and the rear mounting arm is up against the spring hanger.
Step 4: Mark the six holes to be drilled in the pinch lip. Make sure angle is in firm contact with the bottom of the rocker panel.
Step 5: After you have marked the six holes, remove nerf bar and drill the six holes using the 21/64th drill bit supplied. Reposition nerf bar and install using six 5/16x18x1″ bolts.
NOTES: A 1/2 inch open/closed wrench was VERY useful for tightening the pinch seem bolts due to clearance issues with sockets.
Step 6: Position rear mounting arm so nerf bar is horizontal and clamp in position. Drill the two holes using a 7/16″ drill bit. Install with two 3/8×16/1 1/4″ bolts.
NOTES: This step is referring to the mounting of the nerf bar's rear mounting arm to the spring hanger. Drilling the spring hanger was very difficult as it is apparently hardened steel. A nasty, burning smell was produced on the driver side holes, and I broke the 3/8 inch bit while drilling the first hole on the passenger side. I think that some lubrication for cooling of the drill bit could have helped with this.
Step 7: Position angle bracket to the front side of mounting arm and bolt the angle bracket to the nerf bar using two 3/8x16x1 1/4″ bolts. Make sure bracket is in firm contact with the frame rail. Drill the four holes in the frame rail using the 21/64th drill bit supplied. Install with four 3/8x16x1″ self tappers. Torque to 20 ft-lbs. (Do not overtighten self tappers.)
NOTES: Drilling the side bolts for the angle bracket required a right angle drill, since the instructions called out that these holes be drilled after the bar is already mounted to the pinch seam and spring hanger. The mounted nerf bar blocked access of a normal drill. I chose to buy a right angle attachment for $30 from Home Depot, rather than detaching the bar. I'm not sure if it would be possible to accurately line up the bracket in a "dry mount" and then drill the holes. That appears to be the only other option and the one that the guy at Custom 4×4 thought was outlined in the instructions. C4x4 should change the instructions to say that. Essentially, Step 5 would be augmented to dry fit and mark holes for the angle bracket, after which the holes would be drilled.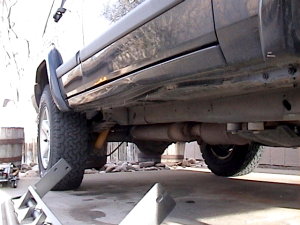 Step 8: Repeat steps above for opposite nerf bar.
NOTES: I mounted the passenger side first, since I didn't have any dents on that side and the installation was quite simple. Installation of the passenger side bar, however, was difficult due to the large dent in that rocker panel. I was only able to mount the rear two pinch seem bolts and the front pinch seem bolt (3 installed, 3 left out- this should still be adequate for my moderate offroad use). The largest gap between the pinch seem dent and the nerf bar bracket was greater than 1 inch- a big dent! Lining up the spring hanger bracket and the frame bracket required special jacking of the bar to position it in the correction orientation for mounting- this was only necessary on the dented rocker panel, and it could cause problems for someone who has not already wrestled under their Jeep before.
With the installation complete, I stood back and was very pleased with the look of the rocker guards. They blend nicely with the wheel flares for the 97+ XJs.
I have had them installed for almost 8 months now and have not banged them against a rock yet! You might say I'm a wimp, but I'd say that I'm a careful driver! However, the double tube appears to provide the best protection for the rocker panel with the bottom tube protecting from vertical impacts and the top tube protecting from side impacts. This certainly gives me piece of mind when loping along rocky trails. Another thing is that they ALMOST provide enough room to use as a step. One inch further out and it would work, although I think that would work against their primary purpose of rock protection.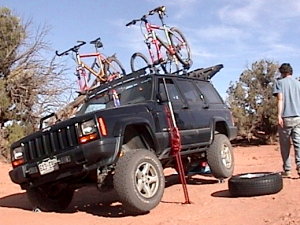 A recent mountain biking trip to Moab brought me to a fun and beautiful trail in Arches National Park, where a sharp metal bracket off an old Jeep punctured my front driver side tire. I decided to jack the vehicle up by the rocker guard which didn't budge at all, although I wouldn't recommend this due to the high roll angle that is created.
If I manage to bang them against any rocks, I will update my review, and until then I can recommend Custom 4×4's Double-Tube rocker guards without reservation. Happy trails!
C4x4 rocker guards are available through JeepinOutfitters.com
For more information, contact:
Custom4x4Fabrication
11825 S.E. 109th
Oklahoma City, OK 73165
1-405-799-7599 or 1-800-951-C4x4
fax: 1-405-790-0395
sales@custom4x4fabrication.com
http://www.custom4x4fabrication.com
No comments