| | |
| --- | --- |
| | |
Installation date: 1/5/02
If you're looking for serious diff protection, it's hard to beat Custom4x4Fabrication's new diff guards. As many of you know, I had a FourXDoctor diff guard on my old D30 (which is now on a friend's XJ) and I put one on my front D44 as well when I swapped axles. Last December Mike over at C4x4 sent me some pics of his new diff guards to see what I thought of them. I liked them, and in fact I liked the looks of their design a better than my current guard, so I had him send me one for my front D44.
My only real complaint with my FXD guards was that they packed up with mud pretty easily, and if the mud dried in there, it was hard to clean it all out. C4x4's guards use a smaller diameter bar for the "grill" and the guard doesn't sit quite as tight to the cover as FXD's does — all of which makes it harder for mud and crud to get packed in around the diff cover and easier to clean when it does. The guard also extends up higher in front of the diff cover for a bit more frontal protection, which I liked.
Right now C4x4's guards are only available for the D30 and D44, but Mike is working on versions for D35's, Chryco 8.25's, and other axles.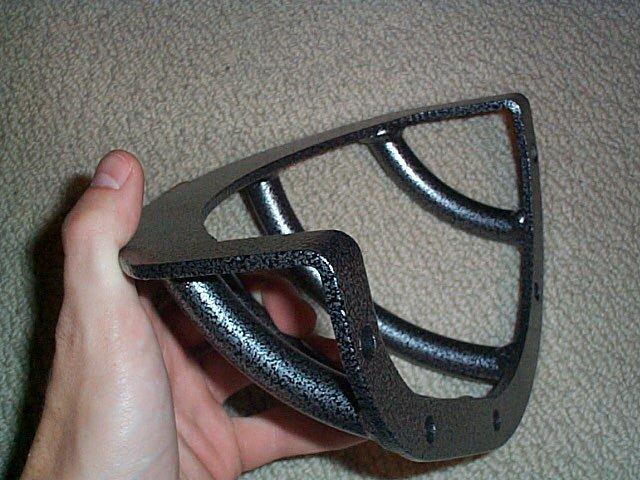 The "top" and "back" of the guard is a single piece of 3/16″ thick steel, cut to shape and then bent at 90*. The "grill" is made of 5/8″ DIA solid bar stock. The welds look great and this is definitely a solid unit. The "veined" powdercoat finish looks pretty cool too.
The install is very straight forward, and there's no need to completely remove the cover or drain the diff, unless you want to. What you do is remove the lower 5 bolts (1/2″ socket) from the diff cover, hold the guard up, and replace the bolts. The bolts don't need to be super tight, just snug them up good. If you over torque the bolts you risk snapping one off in your diff housing, and that wouldn't make for a fun weekend.
Once the bolts are on and tightened down, you're ready to go, easy as that!
C4x4 doesn't include longer bolts with the guard, but Mike said they've always reused the stock bolts on their rig(s) and never had any trouble. I had already bought some grade 8 bolts from Lowes to use with my FXD guard, so I went ahead and used them on the new C4x4 guard as well.
I've tested the guard fairly well on the rocks over the last few wheelin' trips and they've held up great, just scraped off some powdercoat. I can personally vouch for C4x4's new diff guards being "trail-tested tough".
For more information, contact:
Custom4x4Fabrication
11825 S.E. 109th
Oklahoma City, OK 73165
1-405-799-7599 or 1-800-951-C4x4
fax: 1-405-790-0395
sales@custom4x4fabrication.com
http://www.custom4x4fabrication.com
No comments