| | |
| --- | --- |
| | |
Installation date: 4/2/05
Back in the spring of '05 I decided to jump on the bandwagon and get some 5150s for my rig. I'd been planning on replacing my old DT3000s with some gas-charged shocks anyway, so why not go with Bilstein's trick then-new 5150s. I found that I was wheeling my Jeep more, and daily driving it less, and wanted something stiffer than the DT3000s I'd been running since I first installed my RE 5.5″ kit. Bilstein's 5150s fit the bill with firm valving, a fixed cross-flow remote reservoir to help reduce shock fade and heat, the right size, and they just look darn cool.
Bilstein 5150 Features:
Race Inspired Fixed Crossflow Reservoir
Adjustable Shock Mount Allows Unlimited Reservoir Positioning
Advanced Design Split Valving
Huge 46mm Working Piston
Maintenance Free Design
Valving for Single or Multiple Shock Application
Platinum Powdercoat Finish
Available in 6.5″ to 14″ Travel
I just have them on the front right now because I still need to raise the mounts on the rear axle before I can install new rear shocks. Due to timing, I actually installed the shocks at our campsite on a wheeling trip because they arrived the friday afternoon right before we left, and I really wanted to get some trail time on the shocks.
The upper mounts I used are JKS shock adapters and the lowers are JKS BPE's. Let me tell you, those upper shock adapters are a major PITA to install. They fit fine, but stud in the top is 7/8″ I think, and the nut is a whopping 1.25″ locknut! Then to top it off, the bushings in the 5150's are about 1/8″ too wide to easily fit into the shock adapters, so it took some work to get them into the upper mounts.
I went with the 10″ travel 5150's, model number BF5-A196-A1, which measure 25.91″ extended and 15.89″ closed. Add another 2″ for the JKS shock adapters and BPE's and I'm looking at around 28″ extended, and 18″ compressed, which worked out about perfectly for my suspension setup. At hard full compression there's about 3/4″ of up-travel left in the shock, and at full droop the coil unseats by about an inch — I need to setup some limiting straps so I don't damage the shocks at full droop.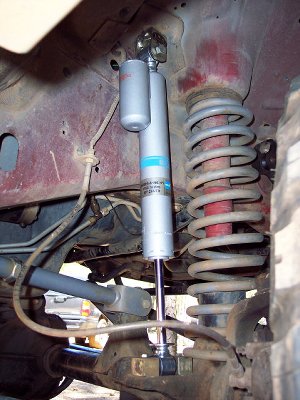 So, what do I think of the shocks? They're firm, very firm, as compared to the DT3000's they replaced. They're noticeably stiffer than the OME Nitrochargers we've got on our TJ too. The Bilsteins are a high-pressure gas shock though, so the ride is going to be completely different from the DoetschTechs anyway.
The 5150's aren't bone-jarringly stiff though, it's more like the ride in a 3/4-ton truck. The changes in handling are pretty much what you'd expect from a high-pressure gas shock — there's noticeably less body roll in the corners, and brake-dive has diminished. Overall it feels much more stable, and that's just with the 5150s up front!
Off-road I definitely like them, the rig feels more controlled and stable, and it doesn't seem like I'm slamming down on my bumpstops as much anymore (which is what I was after). On-road, even with my heavy-weight XJ, they're almost a little too stiff though, compared to what I've been used to. But again, it's not a "rough" ride, just very firm, like a heavy-duty pick-up. Having had them for quite a while now, I really do like the road-ride of the shocks. If my XJ was still a primary daily driver though, I might have gone with a shocks that was slightly softer, like the Rubicon Express MonoTubes or the OME NitroChargers.
I put little zipties around the shafts on the DT3000's (you can see one in the first pic above) to see how much compression travel was being used on the road during normal daily driving, and the front shocks would compress about 3″ max during street driving. In comparison, the new 5150's appear to only be compressing by a max of 2″ during street driving.
You can get Bilsteins from most aftermarket suppliers, including our own JeepinOutfitters. For more info on Bilstein shocks, check them out online at Bilstein.com.
4 comments